Not happy with your purchase?
Then you can inform us about it within 30 days after receiving your product via the return form below. After this you get another 14 days to return your product.
How to send back?
The item must be returned to us in its original condition and packaging (if reasonably possible).
You can look and feel the article as you would in a store. For example: take your t-shirt out of the box and see if it fits well and whether it is to your liking. But if you wear the t-shirt so long that it becomes dirty or smells, it can not be returned.
Return costs?
You pay the return costs yourself
We do, however, offer a reduced rate for returns in some countries. Please contact us and we will send you a link with which you can print a label yourself.
Below the costs and payment options.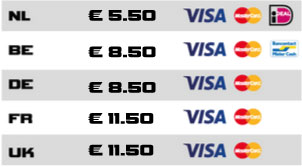 What is not covered by the right to return!
There are products that do not fall under the return right.
These are among others
- Curtain products
- Customized stickers
- Clothing with your own print
- Other tailor-made or on customers wish made items